deutsch / Photo: Florian Maier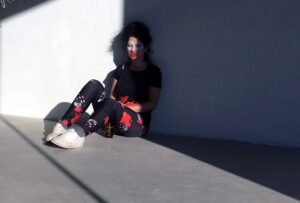 (Miru/sh Miroslava) Svolikova X Svolikova is a vienna based writer + visual artist + running a music project.
Part of the family emigrated from what was then communist Czechoslovakia and almost landed in Australia, but eventually ended up in Austria, where Svolikova grew up, attending a german-english school.
Diploma studies in philosophy at the University of Vienna and in Paris at the Universite VIII Saint-Denis, with a thesis on the middle work of Michel Foucault and visited a two year course in scenic writing.
Studied visual Arts at the Academy of Fine Arts Vienna during which she wrote several plays and later a new translation of King Lear for german theaters. Won several prizes for drama and literature, inkluding prices at Nestroy and Heidelberger Stückemarkt. Europa flees to Europe was selected and invited by the Goethe Institutes Tokio and the Austrian Cultural Forum New York.
RAND was published by suhrkamp theater in 2022 and illustrated by the writer herself.
Several Exhibitions and video works and working on a digital art and music project to launch later this year.