Visual Works / Performance
Performance and Visuals for Video and Photography.
---
HOME  / CV / LIST OF EXHIBITIONS
---
PAPER / OBJECT / VIDEO / PERFORMANCE / INSTALLATION / EXHIBITION VIEWS
---
Visuals for the Nymphes-Project
(Auswahl)
Visuals and Videoworks for the Nymphes-Project (Art and Music Project), 2019-ongoing (Menue>Projects)
---
Selected Works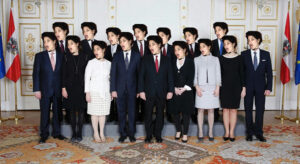 Integrationsplan, Selbstportrait als Bundesregierung, Photoshop 2018
---
Photocollages based on Photografies (using the body), 2010 (Bewerbungsmappe Endprüfung Fotografie)
---
Performances for a Video Work (Fruchtwasser, 2021 – siehe Video Works), with Clara Liepsch and Lucie Ortmann
---
Miniature Performances at the Opening of the Videowork "Fruchtwasser" in the Hotel Schauspielhaus Wien (Residency), 2021
---
Performance-Vorbereitung für eine Videoarbeit (Kaffeekränzchen, 2021, mit Alexandru Cosarca, Daniela Zahlner, Sarah Hauber, für den Interuniversitären Forschungsverbund E. Jelinek)
---
Performance-Lesung with Valentin Aigner + Alexandru Cosarca Akademiebibliothek "wir standen knöcheltief im offenen Meer", Texte und Choreografie von MM Svolikova (go to "exhibition views")
---
Preparations for a Video Work (later realized as "Fruchtwasser", videowork 10min), 2021
---
Miniature Performances for Photoworks, 2015-20 (Selection)
---
Invited to Participate in the Work of others
(Selection)

Participating in a video-work by Daniela Zahlner (Backstage pictures), mit Alexandru Cosarca, Sarah Tascha Hauber, 2021 (Set herausretouchiert)
---
Mitwirkung im Theaterfilm "Alles ist hin?", 2021. Theater Nestroyhof Hamakom. By Hannes Starz und Patrick Rothkegel (Idee), Kamera: Marianne Andrea Borowiec, mit Gustav Ernst, Peter Ahorner, Karl Stirner, Alicia Edelweiss und Voodoo Jürgens.
---
Invited for Reading Performance at Ks Room, during the Exhibition BAD DECISIONS TELL GOOD STORIES, 2018 /// Fotos: Florian Maier, Leon Höllhumer
---
Performing a Tarot-Session in a Performance-Show/Exhibition by Hotel Butterfly in LazyLife Vienna, 2018
---
Participating in Photoworks: by Aschka+Kopp (Queer Revolutionaries), 2017 and by Julia Fuchs (Rethinking History), 2020
---
Participating as a Performer: This is not Vanessa Beecroft, Hyperreality 2017 (Photos of the Performance + Backstage)
---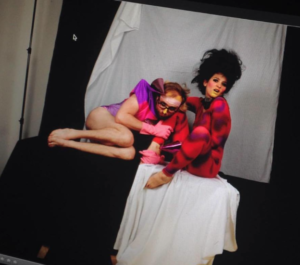 Participating in a Photowork by Hotel Butterfly (with Leon Höllhumer), 2017
---
Invited to participate in a Photowork by Amina Handke, "A guide in 52 miniatures", Episode 10: Tableau Vivant, 2017 at the Academy of Fine Arts Prospekthof
---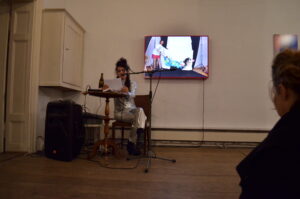 Reading Performance during the Exhibition "Holy Queers and Tricky Myths" at Bernsteinzimmer Nürnberg, 2016
---
Invited as a Performer in three different characters in a Movie titled M.M.M. by Sebastian Lederle, 2011 (Figurenentwicklung, Outfits und Performance)
---
Statistenrolle bei "Wie man leben soll", Film von David Schalko, 2011 (Videostill und Backstage im Filmkostüm)
---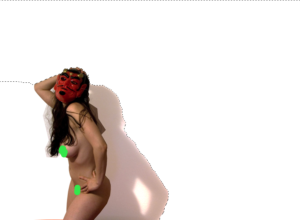 Arbeitsproben mit R.H., 2010
---
HOME  / CV / LIST OF EXHIBITIONS
---
PAPER / OBJECT / VIDEO / PERFORMANCE / INSTALLATION / EXHIBITION VIEWS
---