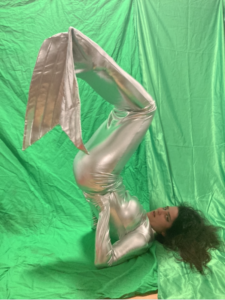 MM XYZ Svolikova is a vienna based visual artist, writer, playwright and musician (NYMPHES).
Part of the family emigrated from what was then communist Czechoslovakia and almost landed in Australia, but eventually ended up in Austria, where Svolikova grew up, attending a german-english school.
Wrote six plays and a new translation of King Lear for german theaters and won several prizes for drama and literature. Europa flees to Europe was selected and invited by the Goethe Institutes New York and Tokio.
Diploma studies in philosophy at the University of Vienna and in Paris at the Universite VIII Saint-Denis, with a thesis on the middle work of Michel Foucault. After completing an art degree in 2017, formation of several fictional art collectives.
The first music album of the music and video project NYMPHES is due to appear in 2022.