deutsch / Photo: Florian Maier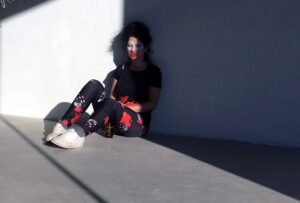 Miru Miroslava SVOLIKOVA is a Vienna based visual artist running an electronic pop music solo-project. Wrote several acclaimed theater plays, numerous texts and a Shakespeare translation. A first book came out recently at suhrkamp theater.
READ ON FOR EXTENSIVE BIO
Part of the family emigrated from what was then communist Czechoslovakia and almost landed in Australia, but eventually ended up in Austria. The family has an academic background and moved around a lot but settled in Vienna. 
Svolikova attended a German-English school and studied Philosophy at the University of Vienna and in Paris at the Universite VIII Saint-Denis. Wrote a thesis on the middle works of Michel Foucault, receiving a social grant.
Later studied at the Academy of Fine Arts Vienna from 2011-2017, working with drawing, installation, sculpture, and photojournals. Also participated in several performances and photoshoots and started making electronic music.
Won a competition for scenic writing while still in art school and got invited to visit a two year course in scenic writing. Wrote three plays that won several prices for upcoming playwrights and were recognised as absurd and quirky works by audiences and media. 
Wrote three more plays shortly after art school, plenty of commissioned texts and a three-times staged new translation of King Lear for German theaters. Playwright career including prices at Nestroy and Heidelberger Stückemarkt. Europa flees to Europe was selected and invited by the Goethe Institutes Tokio and the Austrian Cultural Forum New York and the German Theater Berlin (Autorentheatertage). RAND was published by suhrkamp theater in 2022 and illustrated by the writer.
Continued to have small student-based exhibitions, residencies and started doing video works. Began to release music after the end of the corona-pandemic and started working on and running an solo art&music project. (Menue: Projects)